Tuesday, 7 November 2006
We voted (we think)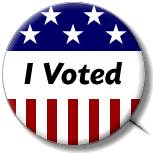 Went to the polling place, dumped our votes in the bit bucket.
(As always, this is no way to run an election.)
Here's an interesting
guide for tracking tonight's results
-- the order in which results will come in and the implications of each result.
And, the
robo-harassment from Republicans flying under a false flag continues
.

Politics--Elections
0 comment(s)
Add a comment...