Tuesday, 2 November 2004
"I voted" buttons
Repost from
two years ago
, plus some new material:
Here are some
"I Voted" button graphics
.
If you want to use one, please
copy the graphic to your own webspace
rather than point to the image here.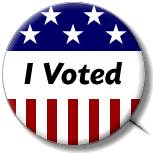 The above three low-resolution GIFs are hereby released
into the Public Domain
and may be copied and used without restriction (or attribution):
---
This fall I also created some
high-resolution "I Voted" buttons suitable for printing
, and they are hereby released under the
Creative Commons Attribution License
.
Summarized, you are free to use the images as much as you like and for whatever purpose as long as I am given credit. Please attribute it to "
Steve Bogart/NowThis.com
":
I've provided
three different formats
and
two resolutions
for a 2"x2" image:
600dpi
(1200x1200 pixels) and
300dpi
(600x600 pixels).
TIFF (recommended):
600dpi
(474k),
300dpi
(152k)
JPEG (satisfactory):
600dpi
(172k),
300dpi
(95k)
GIF (adequate):
600dpi
(76k),
300dpi
(30k)

1 comment(s)
We've been using them since the day you introduced them--thanks!

Add a comment...
We voted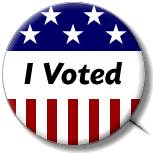 We voted
this morning; got in line at 5:45am and there were 25 people ahead of us. By 6:00am (when they opened), there were 50 more people behind us.
After shifting the lines so that equal numbers of A-K and L-Z surnames were going through, the community voted at 5 'booths' (electronic kiosks), at slightly over 2 voters a minute... when we left at 6:20, 40 people had gone through and there were roughly 125 people waiting to vote -- so, the people at the end probably had an hour left to go. Glad we went early.
Poll workers commented that turnout was pretty high. We'll see.

2 comment(s)
We figured our best bet was to go in the middle of the morning. We showed up about 11 and waited forty-five minutes before we got to check in. Then they let us bypass the hour long line to vote because we had "the baby" with us. I don't think she would have lasted another hour, so it was very nice that they did this. They were also letting old people skip the long line. No one seemed to be upset about it.

We walked over as soon as the alarm went off, literally across the street, where by 6:10 there were already around 50 people in line. This building, one of the few remaining city grade schools in St. Louis, for some reason hosts 2 precincts in one location. It looked pretty chaotic, with lines crossing over each other being further subdivided into the proverbial "halves" of the alphabet. Ballot in hand, we get in another line for the old-fashioned booths. Scary thing is that having two precincts in the same building means there are two precinct ballot boxes. I wondered aloud to "my guy", standing next to me in line, what happened if someone put their ballot in the wrong box, indicating that none of the judges are giving specific directions on this front. An official (well, I presume she was an official as she popped right up upon hearing our exchange) went over to each of the judge tables -- hopefully she voiced the concern. Geesh, I hope something so simple as dropping the ballot in the wrong box doesn't negate the entire process!! Especially being that it's a bit unusual to have two choices -- or I HOPE it's uncommon. At least no one was outside taking down license plate numbers or telling me I was ineligible if I'd voted once already in 2004. wowser.

Add a comment...