Tuesday, 6 November 2007
I Voted (Virginia off-year edition)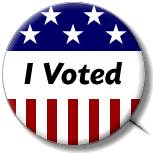 Virginia elects its legislature and County officials in odd years, so unlike much of the country, today was again Election Day here.
Went to the polls around 6:20am.
No line at all at that time. Zip in, zip out. And of course it was pitch dark and raining..
For my half of the alphabet I was the 15th voter.
The ballot had about 12 offices, bond issues & other questions on it. Busy election.
And of course the county continues to use WinVote, a computerized voting solution. Just like all computerized voting -- when you really, really want no reliable audit trail or chance for a recount.


0 comment(s)
Add a comment...
catching up a bit
From 10/19:
From 10/22:
From 10/23:
From 10/24:

0 comment(s)
Add a comment...