Tuesday, 8 November 2005
I voted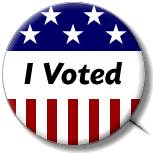 ... I think. (Electronic voting machines again.)
We "voted" around 6:20 this morning. Seemed like a good number of people there given that it's an off-year election.
Tim Kaine
is the obvious choice for
about a dozen reasons
; however, it looks like it'll be another nail-biter.
Via
Hotline
, here are the official links for results (no exit polls to speak of) --

Politics--Elections
1 comment(s)
A year with governor on the line is "off-year"? The biggest race in Philadelphia was City District Attorney....

Add a comment...