Wednesday, 12 October 2005
qotd - Some days...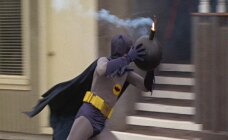 "Some days, you just can't get rid of a bomb"
-- Batman (1966): Batman, after encountering a woman with a baby, nuns, ducks, musicians, and lovers in a boat.
If you Google-Image for '
rid of bomb
', the top hits are Batman hits. This is as it should be.

Quotes