Sunday, 23 June 2002
medley break
One of the many perks of being married to the woman behind
Medley
is that even though she's
taking a break
after her 3-year weblog anniversary, I
still
get to hear what she's thinking and what interesting articles and tidbits she's found on the web. The rest of you will just have to be patient.
Of course, there's still
All Too Cozy
, so it's not like she's
gone
. Just quieter.

Joe!
And so, it begins.
With the welcome combination of my wife's blessing and prodding, I've finally begun my dream project: a very ambitious and complex database/web application that could potentially be handy to many, many people all over the world. (Hype? Maybe; maybe not. It will certainly scratch an itch
I've
had for years.) It will probably take a couple of years since I'm not being paid to do it (so far) and it's going to be done in my spare time. But I'm finally beginning.
My first concrete step has been the creation of a working logo. It's not the obvious first step to some people, but psychologically it makes a big difference to me.
Now
I can really get going!
I shan't be revealing more details about the project right now, and I won't need even alpha testers for a few months at least, but I wanted to mark the occasion here. Landmarks matter.
Here is the logo and the beginning of the look, with the real name left out; in public this project shall be henceforth referred to by its codename, 'Joe'.
Wish me luck. (P.S. If the logo looks like a copy of something else, let me know; I was certainly trying to do my own work.)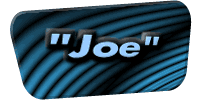 (corner logo)

(button for linking)