Saturday, 1 November 2008
Tricking Voters
Virginia Republicans down in Richmond got balls:
Phony flier says Virginians vote on different days [Virginian Pilot Online, via TPMMuckraker]
A phony State Board of Elections flier advising Republicans to vote on Nov. 4 and Democrats on Nov. 5 is being circulated in several Hampton Roads localities, according to state elections officials.

In fact, Election Day, for voters of all political stripes, remains Nov. 4.
This part's nice:
In 2007, the General Assembly passed a law making it a Class 1 misdemeanor to knowingly communicate false information to registered voters about the date, time and place of the election or voters' precincts, polling places or voter registration statuses in order to impede their voting. The measure is one of the few such deceptive voting practice laws in the country, according to the watchdog group Common Cause.
Two seconds of thinking should lead people to wonder about several things:
Wait, don't we use a secret ballot?

And if we go on a different day based on the party we're voting for, that gives it away!

That doesn't make sense..

What if I want to split a ticket?

Do I have to vote at midnight, or something?

That doesn't make sense..

Are we not allowed to split tickets any more?

That doesn't make sense..
And of course, once you start suspecting it's bogus:
Funny how it's always the likely-Democratic voters who are told to come in after it's all over.

That makes a certain kind of sense.
But of course, lots of people just won't think that hard about it.
That's one reason I'm glad voting is always on the same weekday every time; makes it less likely someone can be fooled with "No, really ma'am, it's on Thursday this time."
Vote.
Tuesday.
Candorville (a Sunday comic here in the Post) replayed some well-worn anti-voter tricks last weekend (and look, this is the very first one!):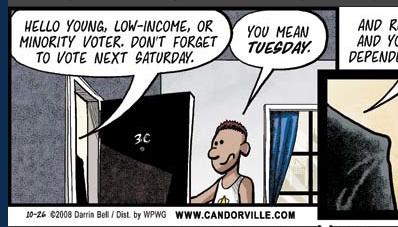 2 comment(s)
Your blog is so interesting … keep up the good work! Also, is your wordpress theme a free one? and if so..can i have it? :)

You got a really useful blog I have been here reading for about an hour. I am a newbie and your success is very much an inspiration for me.

Add a comment...