25.html
---
---
---
---
25 January 2001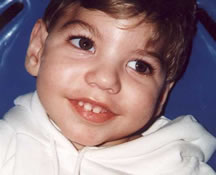 Brady Alan Bogart, 1996-2001
On January 14, my nephew Brady unexpectedly died. He went peacefully in his sleep from a gastrointestinal hemorrhage.

At the beginning of his life, he wasn't expected to survive long due to a difficult birth and oxygen deprivation, but the estimates kept having to be revised upward: "a few days" ... "a few weeks" ... "maybe a year" ... "we don't know."

Astonishingly, early on he pulled out his own breathing tube and didn't need its assistance ever again.

Dan and Vickie, his parents, relied on church, friends and family to help them cope with the difficulties of life with a disabled child. One comfort was the poem "Welcome to Holland", which Dan read at Brady's funeral a week ago:

Welcome to Holland
So you must go out and buy different guide books.
And you must learn a whole new language.
And you will meet a whole new group of people
you would never have met.

Brady was "born into a difficult arena", as the pastor said at his funeral, but in so many of the pictures from his four years on the planet, he was grinning.

Hail and farewell, O cheerful and valiant Sir Brady. You will be missed.

Brady Bogart Memorial Fund
4812 Edgebrook Dr.
Waterloo, IA 50701







---
---