9 November 2000
"Okay, so here's the deal, we have:
* George W. Bush is not President of the United States.
* Al W. Gore: not President of the United States.
What do you say we just leave it that way?"
-- David Letterman, 11/8/2000
---
It's as though the World has gotten so acclimated to the endless campaign, the endless waiting for it all to be finally over, that It decided not to let it end just yet.
"Just another few days.", decided the World. "Neither candidate can win yet. I'm not ready."
So, we're kept from any closure. We hold our breaths a little longer, turning more and more blue. I imagine not much is getting done right now in America; we're all still stuck in an endless November Seventh.
And frankly, I'm glad I'm still back there instead of in the Days After; I found myself very disturbed by the declaration of a Bush victory, even though I'd been expecting it. Give me another few days and I'll adjust. Eventually. "Who is fooled by this man?" Just enough people, apparently.
The satisfying part of all this is, even discounting the possibility of a Gore victory (which would be the least bad outcome IMO), it's clear that Bush will have barely, just barely, won. And he will have won only through a dubious squeaker of a victory in Florida that took days to resolve.
So yeah, Mr. Governor Champion Executioner Boy, you can have the Presidency, but you'll have to wait for it and sweat about it and have fever dreams about those Florida Gore votes that didn't get counted (for whatever reason) that could have made it all disappear for you. Not to mention that you should thank your lucky stars we don't go by the popular vote. You can't claim a clear, clean victory here, and everybody knows it.
It's a weak win. It's a poor win. If I have to live under a Bush presidency, at least I can take some comfort in that.
---
As far as those Florida voting irregularities, James Baker III is taking a predictable lawyerly tack and saying that since the Palm Beach County ballot design was approved by both a Republican and a Democrat, and no one complained before the election, that nothing further need be said.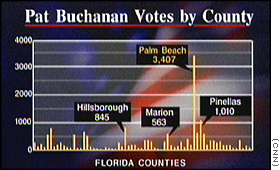 However, one look at the distribution of Buchanan votes over the state of Florida shows dramatically that he did receive an unusually high number of votes in that one county, in fact a staggering number based on the electoral history of Palm Beach County (largely Democratic). Something clearly went wrong; many voters say they meant to vote for Gore but ended up voting for Buchanan. Does it matter why it happened? Do we care that the ballot was approved by both parties? A perverse result was produced, for whatever the reason.
Maybe the people were dumb; maybe the ballot was confusing; maybe there were hundreds of small earthquakes that jiggled people's hands. It doesn't matter. For Baker to assert that the election should be settled based on votes that were clearly counted in a bogus fashion (i.e. counted for someone other than whom the people thought they were voting for) is a classic case of following the letter of the law and not its spirit. It's (yet again, Bush-folk!) Clintonian, and it's wrong in all ways but the legal sense, and I'm not sure about that either.
Hell, even Pitchfork Pat is on the right side of this:
---
As mentioned by a few people now: Funny, isn't it, how all the various irregularities dampened down the Democratic totals and not the Republicans'? You'd think if it was all, you know, typical random events, the effect would be somewhat more evenly distributed.
"Once is happenstance; twice is coincidence; three times is enemy action." -- Goldfinger
Maybe.
---
Finally CNN's putting the numeric difference between the vote totals in their little display. I was getting tired of doing needless subtraction when they could easily post it themselves. (2,909,474 - 2,908,679 = 9,474 - 8,679 = eight hundred and... no, seven hundred ninety-five. Sigh.)
---
An interesting look at running a newspaper and website on the fateful night:
'Stop the presses!' and, uh, the 'servers' too by Frank Michel [Houston Chronicle]
The presses were running. More than 30,000 copies of the Chronicle bearing the Bush victory front page and Editorial page were running off. ... And then, near 3:30 a.m., the word came. Not shouted. But plain, calm and clear. \\ "Stop the presses!"

There was several hundred years of journalistic experience gathered collectively among the editors and reporters in the newsroom at that moment and ... no one could recall actually having been present when a real, live-action "stop the presses" order had been given.

I headed from the Chronicle's fifth-floor newsroom to the houstonchronicle.com lair on the building's 10th floor just to make sure the word had been passed. \\ Indeed, some of the information indicating a Bush victory had been put on the Chronicle's Internet version and was in need of pulling down. \\ Appropriately, if only half-jestingly, one of the On-line editors in the room sang out ... "Stop the servers!"
---
Right then. If I don't post this page ASAP it'll be stale, so: more later.
---
"But honestly, if this thing had been crooked, we'd all be home now... You'd buy the votes where you need 'em and everybody goes home happy."
-- David Letterman, 11/8/2000
---